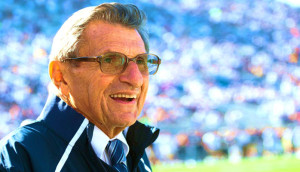 Everyone wants to be a success. We all want our teams (at work, in life, and on the field) to win. Joe Paterno understood how to pull victories out of his athletes because he understood the guts of coaching. Known for his amazing tenure of coaching the Penn State Nittany Lions from 1966 to 2011, Joe was a man of heart and depth. He'd spur others on by telling them, "Believe deep down in your heart that you're destined to do great things."
Joe did great things. He is the winningest coach in major college football history with 409 wins. He got those wins because he's a man of spirit and soul. He was a thoughtful personality of marrow, pith and vivacity. His words and ways led to 37 bowl appearances and two national championships.
Joe used to say,"To teach an academic subject is certainly not easy, but compared to coaching, it is. We can say 'two plus two is four' to every kid and be sure that we are right. But in coaching, we have to literally get to the soul of the people we are dealing with."
Meaningful, lasting success is a matter of the soul. Growth, maturity and development all come from the soul. Accomplishments, wins and championships take soul. Joe Paterno's secret to success was getting to the soul
of his players. Gaining access to their core. Building trust. Garnering respect. Affirming strength. Charging them with greatness.
Want success? Coach Paterno has a good word for us all. Success is more certain when we"get the soul of the people we are dealing with." Leaders do your best to get the soul of your laborers. Managers work hard to get the soul of your members.
And if I might add a practical note for you hardworking executives and entrepreneurs, finding the soul of your colleagues and the heart of your team is more likely when someone has helped you to find yours. Consider finding a your own Joe Paterno. Think about hiring your own coach who gets to your soul. Your own professional mentor who hears your heart. Someone who feels your essence. Someone who champions your dreams. Seems like a practical way for everyone to be a success! I welcome your thoughts.