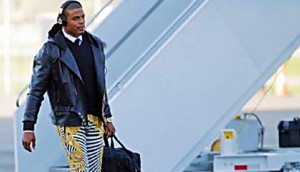 #1 Cam Newton has some advice for winning.
But first, let me remind you that this is Super Bowl Week. The Carolina Panthers will compete on Sunday against the Denver Broncos at Levi's Stadium (in Santa Clara, California). The NFL championship and the coveted silver Vince Lombardi Trophy are on the line. 70,000 folks will watch in the stadium and an additional 114 million will watch on TV. If you need it, kickoff time is 6:30pm ET (3:30pm PT).
A big part of this year's 50th Super Bowl is Cam Newton. What a personality. This Auburn Heisman Trophy winner, and now Carolina Quarterback, has given us some poignant non-verbal advice on preparing for victory. His advice came when he arrived this week in the Bay Area sporting $900 zebra-print jeans from Versace.
With all the cameras on him and all the journalists in view, what did this fashion choice say? I'm told it's the gaudiest pair of pants Cam has ever worn. Perhaps there is a message there for us. His attention-grabbing wardrobe seems to shout it out. It makes a statement. It gives advice. Here it is:
BE BOLD! Be yourself. Be different. Be true.
Boldness is key in business. Boldness is key in relationships. Boldness is key in life. I'm asking myself, "how can I be more bold?" Not bold in fashion, but bold in faith. Not bold in dress, but bold in desire. Not bold in attire, but bold in service, value, and love.
You and I won't have 70 CBS cameras on us this Sunday. The NFL isn't going to make $620 million off of us this weekend. And there won't be $4.2 billion in wagers placed on our play. But in our own personal and professional lives, there are still a few people watching. According to Cam Newton (at least according to his pants), we've been advised not to tip-toe, hide, or be shy. Walk tall. Be yourself. Don't be afraid to get out there. Have a little fun. And
BE BOLD
!
I welcome your thoughts.