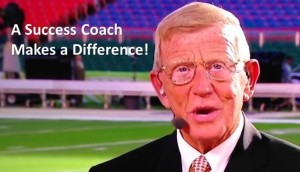 Fans rarely focus on coaches. Fans pay big bucks to watch talented players perform. But truth be told, coaches have more impact on winning and losing than any one individual player.
Lou Holtz (ESPN Commentator and former Notre Dame Football Coach) once said: "You have to have talent to win, but you can lose with talent, and that's where coaching can make the difference."
Who's your Success Coach? Who's your Life Coach? You have the talent to win. Don't miss the distinct advantage that an empowering advocate can make in your personal and professional world.